Please tell me that you noticed the new header. Please?
Isn't it gorgeous? I'm still flailing. (How am I so talented?)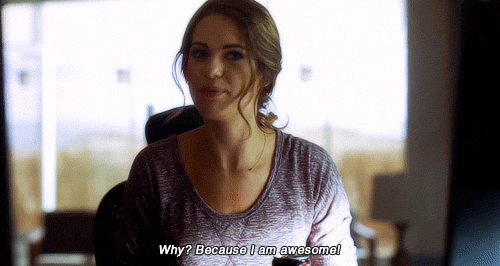 It's just the truth, friends.
Aside from the new and extremely chocolatey graphic up there at the top, I have no other renovations. The title was a lie.
I do, however, have an announcement. Or five. (You know. Details.)
Um.
How do I even say this… I started a new blog.
*awkward self promo is awkward*
Yes, well. Starting up a new blog was always part of the plan. Which you would know if you read this post, wherein I disclosed my exciting new idea for the future. (Make videos. Get famous. Be Lizzie Bennet.)
If you did not read that post then you are clearly a doofus. Just kidding, I love you. (I'm also rambling. I do this when I'm nervous.)
Allow me to quickly recap… what feels like a long time ago, I posted about wanting to vlog throughout my college career, amass a large army of wild fans, and take over the world.
At that time, I had in mind vlogs that were simply about whatever was happening in my life. Whether that was new friendships or fascinating courses or performing in theatre or grueling professors. And I told you that I would continue blogging until September, when my college career began but after that… Story And Dark Chocolate was going to die. (I'm sorry.)
Vlogging was ideal because I knew I won't have time to blog fulltime – like I do now. But at least I would be doing something towards pursuing fame and you lovely people wouldn't forget about my existence.
Does that make sense? (Probably not. I have a convoluted mind.)
The vlogs were going to be on YouTube, but I was going to post them on here so that you lazy fiends could watch with utmost convenience.
What has changed, you ask?
Well. In a dramatic turn of events, I'm not just vlogging. I'm starting a rebellion. (No big deal. No one freak out.)
I'm not going to go into it, because if you're piqued at all, you can click that delectable link and see the gorgeous site and all the shiny pages and figure it all out.
And instead of vlogging about my unfortunately boring life, I am going to make a fictional show. Like a television show, except mine will be on YouTube. If you are at all interested in watching each episode as it comes out, I suggest you follow the new blog. (So subtle.)
I'm not going to be posting the videos here after all, because this is my writing blog and I prefer to stay consistent. The Bubblegum Rebellion is my indie artist blog, and besides, it has a matching aesthetic.
You might be wondering why I'm telling you all of this.
I decided to launch the blog now in the hopes that I will actually have a following when I start making episodes. I have almost 100 followers here – which is crazy – but I don't expect that all of you will automatically switch over. The earlier I start shoving this down people's throats, the better my chances of not making a video for one lonely fan.
September seems distant. While we wait, let's gather the troops! (This procedure will be covered on the other blog. Please refer to it on all occasions and do not attempt any gathering on your own. I am a trained professional.)
I have another reason, as well. I want you to help me make my show. Like, I want you to write it. I want you to decide what it is. I want you to be involved in every step. I want this to be your show. Sure, I'll be playing the main character. But how cool would it be for your words to be coming out of my mouth?
You have complete control.
You can make me do anything you want.
(Do not waste this golden opportunity.)
Now, you all have a burning question. Will the beloved Story And Dark Chocolate keep running after all? (You will recall that I was threatening to abandon ship.)
The answer, alas, is that I don't know.
Part of me definitely wants to move on to bigger and better things without looking back. But… I have built a platform here and I don't want to throw that away. Each and every one of you is important to me.
We all know I have a big mouth and an opinion on everything. So, knowing me, I might be back to shout at you about the movies I watch and the books I read and the characters I fall in love with.
So… don't leave?
All I can say for sure is that posts will be not be coming at you twice a week like they are right now. More like once a month? Maybe.
Please keep in mind that I am committing to putting out video every Saturday and possibly a random thought for the Journal every day, not to mention a newsletter once a month — give me all the grace you can.
I'm going to be busy and hardpressed to get it all done. I'm heaping things onto my own plate with reckless disregard for things like common sense and sanity. (Typical.)
What else is there to say? (Not much, bro.)
Visit the new blog. Get engaged. Help spread the word. (Please.) Write my show. Send chocolate.
Since this post is weird and random anyway, I want to avail myself of the opportunity to be even more random and weird.
When I saw this video, I thought of you. Don't ask me why. I just love this couple and the way they sing this song. (Enjoy!)
Don't go yet – there is more!
I have, in fact, a smol game. A Kate-sized game, actually. You might consider it a promo for the big new things going on. (Participation is required. I know where you live.)
The Kate-Sized Quiz (How Well Do You Know Me?)
1. How tall is the Kate?
2. What is the Kate's favorite food?
3. What is the Kate's favorite color?
4. Is the Kate #TeamPeeta or #TeamGale?
5. Fill the blank: the Kate is Most Likely To…?
6. What color are the Kate's eyes?
7. What color is the Kate's hair?
8. How awesome is the Kate?
9. Will the Kate one day rule the world?
10. How many siblings does the Kate have?
11. What is the Kate's top fandom?
12. How old is the Kate?
13. Describe the Kate in one word.
14. What is the Kate's middle name?
15. Does the Kate do coffee or tea?
(If you can think of a good prize, let me know in the comments.)
And to complete the randomness, this song basically sums up my life right now. (Happy crying as you listen.)
What do you think of my proud news? Do you ever listen to NF? Did you go look at the new blog? Are you hype? (I am, but only a little.)