When I was eleven years old, an idea captured my mind and wouldn't let it go.
Over the next six years, it slowly captured my heart as well.
I poured all my energies into that story… but those energies were not terribly concentrated. My approach to writing was incredibly relaxed – I only wrote when I felt like writing. When inspiration struck. 
The story morphed, slowly, into something new. Evolved, you might say. So much, in fact, that it was eventually unrecognizable as the same story that had hatched in my mind so many years earlier.
NaNo changed that.
The story that I had been chipping away at has been completed.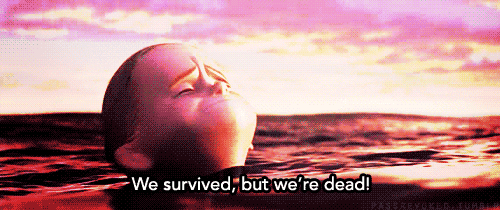 I don't even know what to do with myself, to be honest. The feeling of being done is so… foreign. I have never completed a full-length novel before.
I didn't do it alone. After week two, I was running out of ideas fast. I had moved through my story too quickly and it was dying. That was when Shay and Brandon came into the picture and helped me to push through. Brandon wrote some brilliant posts that I desperately needed. Shay and I chatted using NaNo mail and guided me through some specific steps to extending my story.
I could not have done it without them.
What now?
Well, I move on. This is so new to me… but it would seem, that for the first time I am free to explore the world of new ideas. 
Miss March and Christine, my sweet friends, encouraged me to take a break, telling me that I had done enough. Brandon, however, relentlessly advised me to plunge right into the next story.
He said, "Yes, this story is done. So start a new one. We are writers, after all. There is always another story." Brandon is a wise boy.
One thing I'll say for NaNo – it effectively gets you into the writing spirit. I could not stop thinking about my story. So, for a few weeks after NaNo, I worked on the fun stuff behind writing a book that I didn't allow myself to procrastinate writing to do during NaNo.
I made a word-aesthetic.
I patched up my dilapidated outline.
And finally, I took a deep breath… and started something new.
But, deranged little overachiever that I am, I didn't begin working on just one new story. I started four.
A futuristic novel about a seventeen-year-old surgeon whose patients are abducted.
A Beauty and the Beast retelling set in 19th century London.
An Alice in Wonderland and Alice Through The Looking Glass retelling about mirrors and mental hospitals.
A Peter Pan retelling without the "pan" I'm calling "Just Peter."
Admittedly, I've zeroed in on the Beauty and the Beast retelling, though the others are just as intriguing.
And I've also started reading again, which, as you can probably imagine, is like a breath of fresh air. Of course, it is largely school-assigned reading – but when I'm assigned things like The Great Gatsby, I'm a happy girl.
My sad fingers are also happier now. Which is important to note. Because I know how much you care about my sad fingers.
So, tell me! What did you write in November? What's next? Any exciting new projects you wanna reveal? What have you been reading lately? Got any recommendations for me?