Today is the first day of National Novel Writing Month.
Let the agony begin!
I meant fun – let the fun begin! Silly autocorrect…
As some of you may be aware, this is my first time. I will admit to being a little nervous. I think I can do it, but I am slightly concerned about what will be neglected in order for that to happen?
I mean, will it be sleep, or meals, or school, or interacting with humans, or breathing oxygen, or reading that glaring stack of books by my bedside…?
What will it be?
And who put the books there, of all places? Where they can so easily murder me in my sleep?
Oh, yeah. That was me. Whew. I thought somebody wanted to kill me or something!
What were we talking about again?
Oh, yes. NaNo begins today! Goodbye, cruel world…
No, I'm not being melodramatic! Who do you think I am?
I will have you know that my fears are perfectly legitimate.
For your reading pleasure, I will systematically list the ways I will die a horrific death this November.
1. I've Already Written Most Of This Book… Or Not
Why am I even doing NaNo again? To be honest with you, I think I may have dared myself.
Are you concerned? I am definitely concerned.
I've already written something like 90,000 words?
And since it has always been my goal to have this book be about a thousand pages long…
…And my nearly-math-fried brain says that's about 300,000 words…
…Which means I need to write about 200,000 more words…
…And now my brain hurts. I hate math.
I think my point was that, unlike the rest of you, I am not starting from scratch.
My goal is to finish this beast. Or kill it, possibly?
Either one will do.
2. I Am Writing This Thing Longhand
Would everyone please come back here?
As I was saying, I am writing at least the first draft – okay, fine, only the first draft – longhand.
It's how I started, okay?
So I wanna finish that way, too.
I am not crazy. Stop looking at me that way.
3. My Characters Are All Persons Of Few Words
None of them want to talk to me.
I'm serious.
A typical day finds me screaming in desperation, "Speak to me! Speak! What say you, already?"
Why did I make all my characters so darn introverted?
I mean, it might be because I can't relate to talkative humans, because I'm not one? But still. Dialogue is at a bit of a standstill just now.
In case you were wondering.
4. All My Characters Are Only Children
How did that happen?
I come from a large family. Seven kids. Two parents. Various pets. Marriages. Marriages with children.
It's a complicated mess, basically.
So how is it that every single one of my characters has no living relatives?
Let us consider…
Keira? Yeah, her parents are both dead.
Aleks? His family is largely undeveloped, actually. All I know is that his father is living. And that they don't get along.
Saint? Both his parents are dead.
Edmonde? Everyone he ever knew is dead. Except maybe a grandmother or something? But everybody else is quite certainly dead. And the grandmother will probably die, too, come to think of it…
It would almost seem that I, in my infinite wisdom and mercy, decided to spare my beloved children of the chaos of large families. Not to mention the hand-me-downs.
In other words, I am the last person who should be writing only children! Obviously, I know nothing about it.
That said, a large family is on my list of "Things To Write Someday."
5. My Characters Don't Know What Anything Is
Books. Pianos. Shelves. Carpet. Windows. Fire. Trees. Dragons. Animals other than dragons.
How am I supposed to write these things as if I only know what the character knows and the character has never seen any of this stuff before?
6. I Know Nothing About Music
And my book is full of it?
It's a bit of a problem.
My brother is an incredibly talented pianist, but if I got any of what he apparently got, it remains deeply buried.
I know what notes are. Sort of.
I understand the concept of a tune. I think.
That is the extent of my musical knowledge.
Who is writing this book?
Not me, that's for sure!
I seem to have a knack for getting myself into uncomfortable situations…
So.
I suggest you pray for me. Pray hard.
This could get ugly.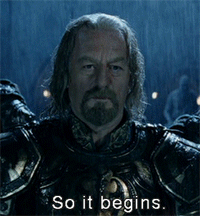 Are you doing NaNo? Shall I pray for you as well? Do you have any introverted characters? What is your secret? How do you get them to open up and talk? How would you describe a book to someone who had never seen one before? A piano? A dragon?